Find out more
Here you will find interesting facts about the topic listed. We will gladly answer your questions instantaneous contact.
An architectural monument
The building is of particular value
By definition, a listed building is a building that represents a particular value and should be protected for this reason. Therefore, a building worthy of protection is often placed under monument protection. With particular value refers to an artistic, political, a technical feature or a city planning feature of the building. Through its architectural image of a monument falls regularly on within the building landscape. The task of preservation, it is, inter alia, to obtain this.
Monuments are the pearls of our cities
In every old town monuments are an eye-catching and beautify entire streets: monuments immediately catch the eye, they are the pearls of our inner cities. Usually they belong to a particular architectural era, for example, the Renaissance or the Bauhaus style. In many monuments are extensively renovated. Previously often carried a substantial refurbishment, following the restoration. Renovated or unrenovated, are Listed Properties higher-income owners as an investment available. Benefit equally tenants, residents and the cities of listed buildings.
Why are there in Germany the monument?
The tasks of preservation
In Germany the conservation plays a significant role in the protection of historic buildings. On the basis of legal conservation provisions will ensure that historic buildings be preserved and protected. Historical and cultural witnesses German history will be preserved for future generations and considered as cultural heritage. So Germany gets its unique architectural diversity.
The legal Reglungen in Germany
The monument in Germany is subject to statutory regulations. Each state has regulations that are individual. Why 16 different conservation laws are legally in Germany. The conservation laws have the common goal to serve the protection and long-term preservation of important historical and cultural monuments and soil. Monuments are led in regional lists of monuments. The relevant conservation authority determines whether the property is subject to a preservation order.
What is a core rehabilitation?
An old building is placed in an almost new condition
Structural restoration - includes the complete renovation
The term core restoration is meant when a building is put through extensive structural reorganization measures in new condition. Here are all elements that do not belong to the supporting structures removed.
What will be renewed in detail?
In general, all electrical installations and water lines are replaced at the core redevelopment. In addition to a core rehabilitation cases is often covered the roof completely new, the roof on the other hand is just in case of serious damage or rebuilt. The original rooms within the building still remain in their structure. From a coring occurs when all elements are removed to the outer walls.
Monument signage redevelopment of properties
In general, a substantial refurbishment in historical buildings in need of rehabilitation is necessary. However, this may happen only under certain conditions. The client must agree with the competent Administration of Cultural Heritage. The Authority shall monitor the work during the entire renovation. This ensures that the restoration of the building is done by historical standards, which largely determines among others for the tax deductibility of remediation costs.
Putting it as a monument
Who determines a monument
Who determines which building is a monument
In the Federal Republic of Germany of the monument is up to the individual states. So there are a total of 16 different conservation laws, is laying down the conditions which must satisfy a property for a finding as a historic structure. Only if these conditions are met, tax benefits of purchasers can be used. These are two different systems, according to which in Germany monuments are appointed:
The first message 'scheme
In the so-called. Lichen message system characteristics are mentioned in the legal text, which must be specifically met. After fulfilling the building is included in a list of monuments. In which case, the owner of the building to be merely notified further steps are no longer required. However, this monument lists are not legally binding.
2 The Constitutive system
Again, there are lists of monuments, but these are legally binding. Here the owner of a property must submit an application for recording after all the conditions for inclusion in the list of monuments are met. If the application is accepted, explains the competent authority within a monument administrative record. Thereafter, the property is a listed building.
aavy.de Monument protection Real Estate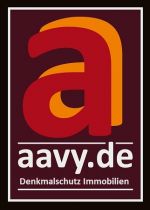 under aavy.de conservation estate find buyers following properties to buy: Single & Multi-family homes, house, villas, villa, manor houses, castles, castle, castles, castle, residential & commercial buildings, industrial buildings, commercial buildings, factories, storage in Leipzig, Coswig , Kingswells, Spremberg and Rostock.
aavy.de monument informed on the subject of memorial and monument protection Real Estate, published important information and facts as well as the yield calculator. Monuments offer the possibility of a tax savings of up to 80% of your investment as depreciation.
The objects are without exception Items in sole agency or inventory objects from the assets of the aavy group.
On the basis of a partnership agency and we are happy to work with Tip donors, professionals, developers or other agents. For more information, click here.
Soziales Engagement von aavy.de
We are personally committed to the KLEIDERHERZ project and support this financially. Take a look, maybe you also enjoy it ...